As a makeup artist and beauty expert for over 25 years I have worked with all kinds of women. From celebs and models to busy moms and college students, the one thing I know for a fact is that every woman I touch posses beauty. It might be a smooth complexion, a thick lash line, a strong aquiline nose or piercing eyes, but each of us is uniquely magical. My philosophy has always been to celebrate a woman's unique features by using makeup not to change or hide who she is but rather to celebrate her special beauty.  I use makeup like watercolors to simply enhance her natural beauty and play up her best assets. This helps her embrace her true self and she will glow from the inside out, kicking away corrosive negative thoughts and empowering her to shine.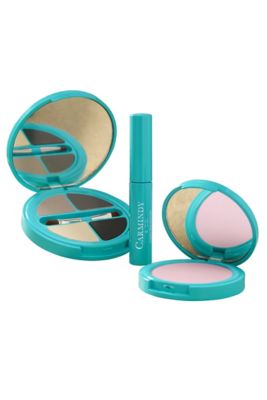 I have created Carmindy & Co to offer women a beautiful line of color cosmetics that are all sheer, buildable, easy to apply and absolutely gorgeous. By focusing on natural looking and foolproof products that deliver, women can finally feel confident with a streamlined makeup regime. One of my most coveted collections is The 5 Minute Face collection, which is the ultimate Carmindized kit that every woman needs in her beauty arsenal. I developed The 5 Minute Face collection after working with so many women, like all of us, that had such crazy busy lives. Nobody has time for a multi-step routine each morning, whether you're jetting off to class, getting the kids ready for school or running off to work (sometimes all three), but yet we want to leave the house feeling on top of our game. The 5 Minute Face works on all women no matter what her age or facial features and I have chosen universal hues that work across the skin-tone spectrum from the fairest of maidens to the darkest of beauties.
The first step in creating the super easy polished and enhanced 5 Minute Face is by using the Carmindizing Highlight Duo. This split pan of champagne hued luminosity is a subtle shimmering cream for day and powder for night that brings a glow to the skin. You apply it to 3 key places on the skin to showcase the planes of your face and restore radiance. Apply it under the eyebrow on the brow bone area to bring attention to the eyes. Dab a little in the inside corners of the eyes to give your gaze a little sparkle and then blend it along the tops of your cheekbones to make them really stand out and create a fresh beautiful looking complexion.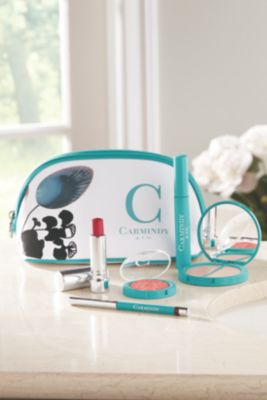 Next smudge a little of the Ever After Eyeliner Pencil along the upper lash line to define the eyes and this gel-like pencil glides right on without pulling or tugging at the lids. The color Espresso is a delicious golden deep brown that works on any woman's eye color.
The Elevate Mascara in Midnight is next, so sweep this lengthening, thickening and volumizing black mascara along the upper lashes for a fast, full, flirty fringe to the eyes. The special curved brush also lifts the lashes making them look as lush as possible.
Now, swirl on the Love Struck Blush in Universal Pink to the apples of your cheeks to bring a soft color to the complexion and make your cheeks look alive.
The last step is the Kiss Me Lip Butter in Rose Passion, which is a sheer moisturizing lip balm that softens and smoothes your smile while offering that perfect rosy tint to your lips. Voilà,  you are done in a 5 Minute flash! All 5 products are housed in a gorgeous floral makeup pouch making it easy to just throw in your purse when you are on the go.
We love to hear from you. Leave a comment!
---